Nature in Cities
Urbanization as a Crisis and an Opportunity
On Wednesday, April 28, 2010 in San Francisco, a panel presentation, NATURE IN CITIES, considered urbanization as a global crisis and as an opportunity, with a view toward understanding the restorative, regenerative, and imaginative possibilities of a new integration of urban and rural through local agriculture, human-powered transport (e.g. walking, biking), etc. The presentation was the third in the series Ecology Emerges.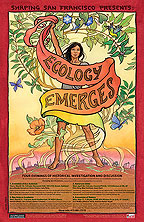 Ecology Emergesódiscussions and reflections on the history of Bay Area ecological activism, based on oral histories documenting the past 50 years. For more information about this series see: http://www.shapingsf.org/special/ecology-emerges.html
Listen to the discussion here:
Participating in the panel were Peter Berg (Planet Drum Foundation), Miya Yoshitani (Asian Pacific Environmental Network), and Jason Mark (Earth Island Journal, Alemany Farm) . This presentation was part of the Shaping San Francisco Talks Series. Shaping San Francisco continues to provide weekly discussions on Wednesday evenings and archives them on their website. For more information about talks and their other events see: http://www.shapingsf.org/ or call 415-881-7579.